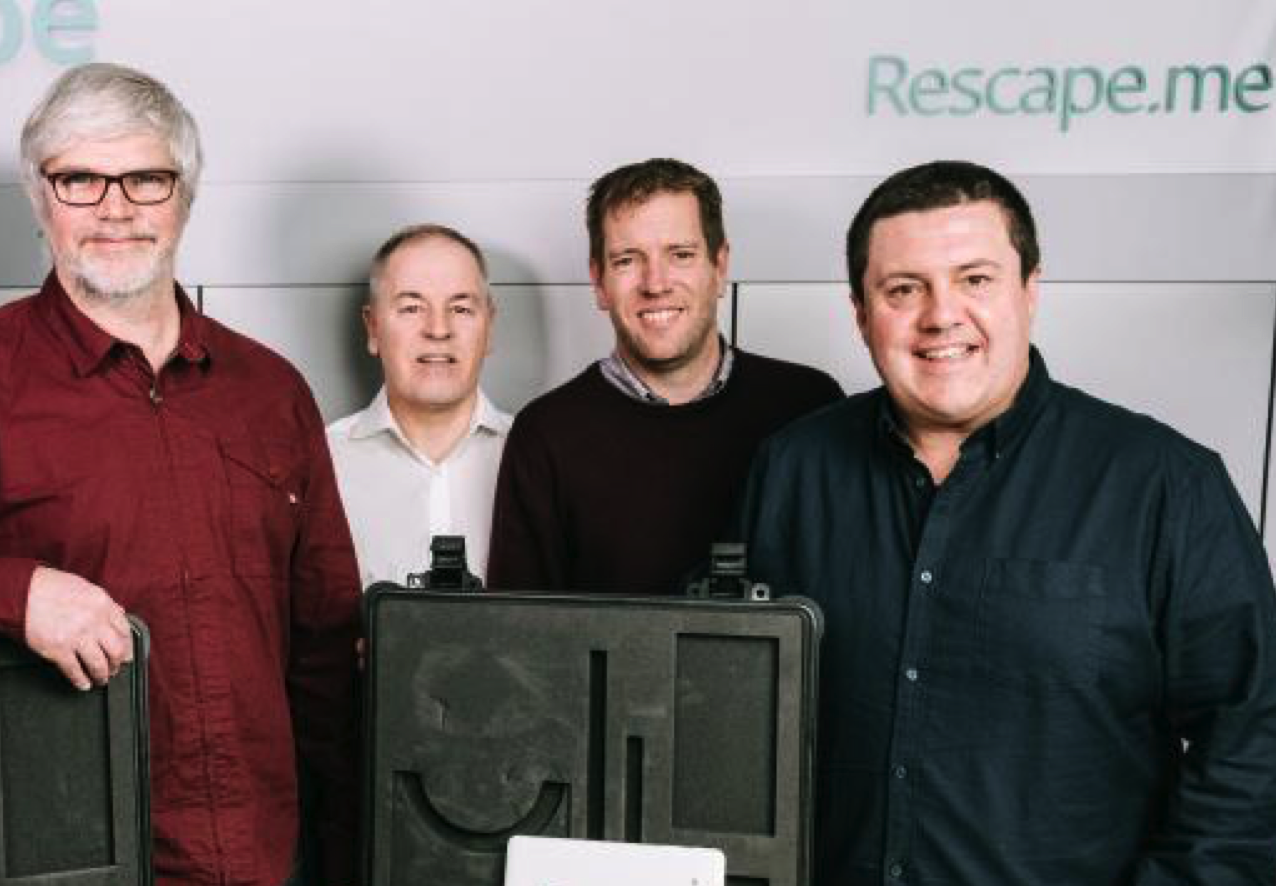 Wales based angel investors and Development Bank of Wales invest £480,000 in Rescape Innovation
A WELSH start-up that develops virtual reality technology for healthcare has secured a major investment.
A group of Wales-based angel investors and the Development Bank for Wales has closed an equity deal with Rescape Innovation worth £480,000 which will help the company invest in new technology, export and develop new products to support patient recovery and rehabilitation.
The deal has brought together ten high-profile investors from a range of sectors who all believe in the benefits of virtual reality and its capability to support patients and the healthcare system.
The deal was led by South Wales based investor Andrew Diplock, with support from Angels Invest Wales, part of the Development Back of Wales, Geldards and Capital Law. Andrew and the syndicate of investors secured match funding from the £8 million Wales Angel Co-investment Fund.
Andrew Diplock, Lead Investor said:
The future is exciting for Rescape and with the new funding, the business will be able to make the right investment at the right time with innovative technology in the developing healthcare sector.

I was pleased to be able to introduce this South Wales based business to a group of leading and experienced businesspeople– they all agreed to back the exciting future development of this company. I focus my investment activity on high growth potential South Wales-based businesses. Rescape Innovation certainly fits the bill and I look forward to working with the management team in the years to come.
It was thanks to the Accelerated Growth Programme (AGP) funded by Welsh Government and the European Regional Development Fund that the Welsh business was given the early support it needed to establish its product in Wales.
Rescape Innovation, based in Cardiff, works to develop virtual reality products that help patients deal with pain, rehabilitation, stress and anxiety by distracting the brain. The distraction therapy technology allows the patient to be immersed in a different reality, helping the brain to reduce pain and ease the feelings of anxiety.
Recent studies demonstrate that the cost of adolescent pain is nearly £4billion per year, with up to 28 million people in Britain living with chronic pain according to recent estimations.
Up until now, cases are usually treated with a prescription of pain killers- putting strain on NHS budgets as well as on patients who rely on them.
Rescape aims to address not only the prescription and patient experience but also the longer-term health economic benefits of immersive technology.
Steve Holt, Director of Angels Invest Wales said:
We are delighted to support the development of Rescape Innovation with match funding of £207,500 through the Wales Angel Co-investment Fund. This fund is now successfully encouraging new angel syndicates to come together to invest in Welsh businesses.

The Rescape investment syndicate has brought ten angel investors together and collectively they'll bring a wealth of experience to the development of the business.
Using virtual reality, Rescape Innovation offers an affordable and safe treatment. The product has already been used in 31 healthcare institutions across the UK with a further 30 orders placed. With the recent business growth, the Welsh start-up is responding to global interest in the technology, including enquiries from Norway, Australia and South Africa.
Matt Wordley, Chief Executive of Rescape Innovation said:
This investment opens up an exciting new chapter for Rescape and puts us in the best position to expand our product offering to offer patients support through proven techniques like distraction therapy.

There are so many factors in establishing a quality tech product but thanks to the support we've received from Andrew Diplock, the other angel investors and Development Bank of Wales, we're not only leading VR innovation in Wales, but across the UK and the world.

We're proud to have started our business here in Wales and with the brilliant talent, infrastructure and support system, we're able to grow and develop our products here too.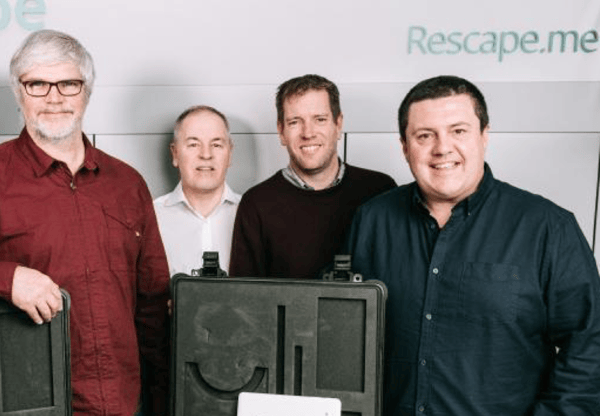 Caption: (left to right) Kevin Moss, Director for Rescape; Steve Holt, Director of Angels Invest Wales; Matt Wordley, CEO of Rescape; Andrew Diplock, Lead Investor.
Caption: Patient experiencing Rescape's Dr.VR distraction therapy
Media opportunity
There are interview, photography and filming opportunities in Cardiff in the coming week with access to patients and clinicians to discuss the benefit of VR distraction therapy, as well as meeting the founders of Rescape Innovations and selected investment partners who are key to the development of the business.
For more information and to secure an interview please contact Jess Magness, PR Lead on behalf of Rescape Innovation on jess.magness@thinkorchard.com / 07875841132
EDITORS NOTES:
1. For enquiries, please contact Jess Magness, PR Lead for Rescape Innovation on jess.magness@thinkorchard.com / 07875 841132
2. Rescape brings a new dimension to healthcare. Visit the website for more case studies and information: rescape.me
3. The Development Bank of Wales was set up by the Welsh Government to support the economy of Wales by making it easier for businesses to get the finance needed to start up, strengthen and grow. The purpose of the Development Bank is to unlock potential in the economy of Wales by increasing the provision of sustainable, effective finance in the market.
Launched in October 2017 it is a cornerstone organisation for delivery of public sector financial products, supporting micro to medium businesses in Wales and increasing the supply of finance. It promotes economic development through an adaptable delivery model that is responsive to market needs whilst providing continued value for money for public funds. It delivers key Welsh Government policy objectives measured through performance targets and providing investment management and support services across the whole of Welsh Government.
The Development Bank of Wales has made £0.6bn direct investment into Welsh businesses, attracting £0.8bn private sector leverage creating a total impact into the Welsh economy of £1.4bn. www.developmentbank.wales/media
4. Angels Invest Wales is the business angel network for Wales. Launched in 2018 as an integral part of the Development Bank of Wales, it connects expert investors to growing Welsh businesses seeking private investment solutions by helping them find each other. The investment opportunities are open to experienced and first-time investors, and in particular those looking to invest in businesses as part of a balanced investment portfolio.
Through Angels Invest Wales, Welsh businesses can gain access to a quality network of sophisticated investors inside and outside of Wales who are all passionate about growing Welsh businesses.
Angels Invest Wales provides a personalised service for business angels and experienced investors looking for sound investment opportunities.
See a range of carefully selected and 'quality controlled' investment opportunities.
Be an active part of a high-quality professional investor network.
Potentially qualify for tax relief benefits and exemptions through EIS and SEIS approved opportunities.
Explore 'best practice' in investment strategies and quality networking opportunity with other HNW individuals.
To help match investors and businesses there is an online investment platform. It allows businesses to upload deal information to the platform, showcasing directly to registered high-net-worth individuals while also providing investors with an easy and accessible source of business opportunities to review at any time.
5. See British Pain Society study for information relating to "Recent studies demonstrate that the cost of adolescent pain is nearly £4billion per year, with up to 28 million people in Britain living with chronic pain according to recent estimations."
6. Rescape Innovation would like to thank the following stakeholders for their continued support: Walter May of the Accelerated Growth Programme Wales (AGP); David Notley of Impact Innovations; Broomfield Alexander; Business Wales; Barclays Bank; Life Sciences Hub Wales.